Hits: 8111
"My Problem With The Prosperity Gospel," by Charles Toy, for The Christian Left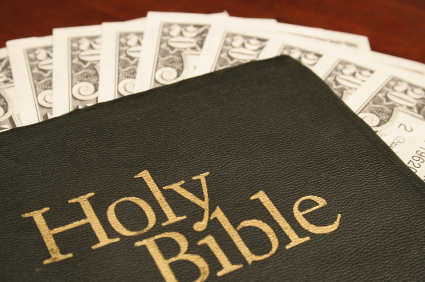 Are Joel Osteen and other purveyors of the 'prosperity gospel' false prophets? Those are pretty harsh words. I like to give folks the benefit of the doubt.  Are they a bit misled? Very likely so.

What the prosperity gospel implies is that wealthy people are blessed and there's something wrong with poor people in God's eyes. This is a lie from the pit of hell.

It is written in Mark 10:17-25 And when he was gone forth into the way, there came one running, and kneeled to him, and asked him, Good Master, what shall I do that I may inherit eternal life? And Jesus said unto him, Why callest thou me good? there is none good but one, that is, God. Thou knowest the commandments, Do not commit adultery, Do not kill, Do not steal, Do not bear false witness, Defraud not, Honour thy father and mother. And he answered and said unto him, Master, all these have I observed from my youth. Then Jesus beholding him loved him, and said unto him, One thing thou lackest: go thy way, sell whatsoever thou hast, and give to the poor, and thou shalt have treasure in heaven: and come, take up the cross, and follow me. And he was sad at that saying, and went away grieved: for he had great possessions. And Jesus looked round about, and saith unto his disciples, How hardly shall they that have riches enter into the kingdom of God! And the disciples were astonished at his words. But Jesus answereth again, and saith unto them, Children, how hard is it for them that trust in riches to enter into the kingdom of God! It is easier for a camel to go through the eye of a needle, than for a rich man to enter into the kingdom of God.

Does this mean all rich people are going to hell? No. It is also written in Mark 10, verses 26 and 27: "That set the disciples back on their heels. 'Then who has any chance at all?' they asked. Jesus was blunt: 'No chance at all if you think you can pull it off by yourself. Every chance in the world if you let God do it.'"

There were many "Saints" in the Bible who could be described as being wealthy. Joseph of Arimathea was one.

Does the Lord want to bless his people? Of course he does. Are blessings always material? Nope.  Are we on dangerous spiritual ground when we start thinking the disadvantaged are out of favor with God? Very much so.

Let us not be too hard on Brother Joel. The Disciples themselves were often misled in their own thinking. Jesus had to correct them frequently.

In January 2002, Bill O'Reilly said, "Jesus would have demanded that the homeless people shape themselves up or else, because, we all know the passage 'The Lord helps those who help themselves.'"

Actually Bill, we don't know that passage. It isn't in the Bible, anywhere.

And please, spare me "the poor will always be among you." Many people use this statement as an excuse for their own greed and self importance.  Jesus didn't mean for it to be taken that way, at all.  All of his other statements confirm this.